While our online store is being remodeled, do visit our showroom in Tulsa.
We are in business because of our superior quality.
Six weeks is all it takes from order to installation.
We believe in local manufacturing.
Our Murphy beds start at $1692. Call us today!
We have a style to suit your taste. Call and ask about our nine collections.
Call us now
We make Space multifunctional
We offer many additional features
To complement the Murphy Bed you may request:
Side cabinets of varying configurations for both sides of the bed
LED light fixtures installed in the bed
USB charging stations installed in the bed
Other helpful enhancements to the bed, which you may read about further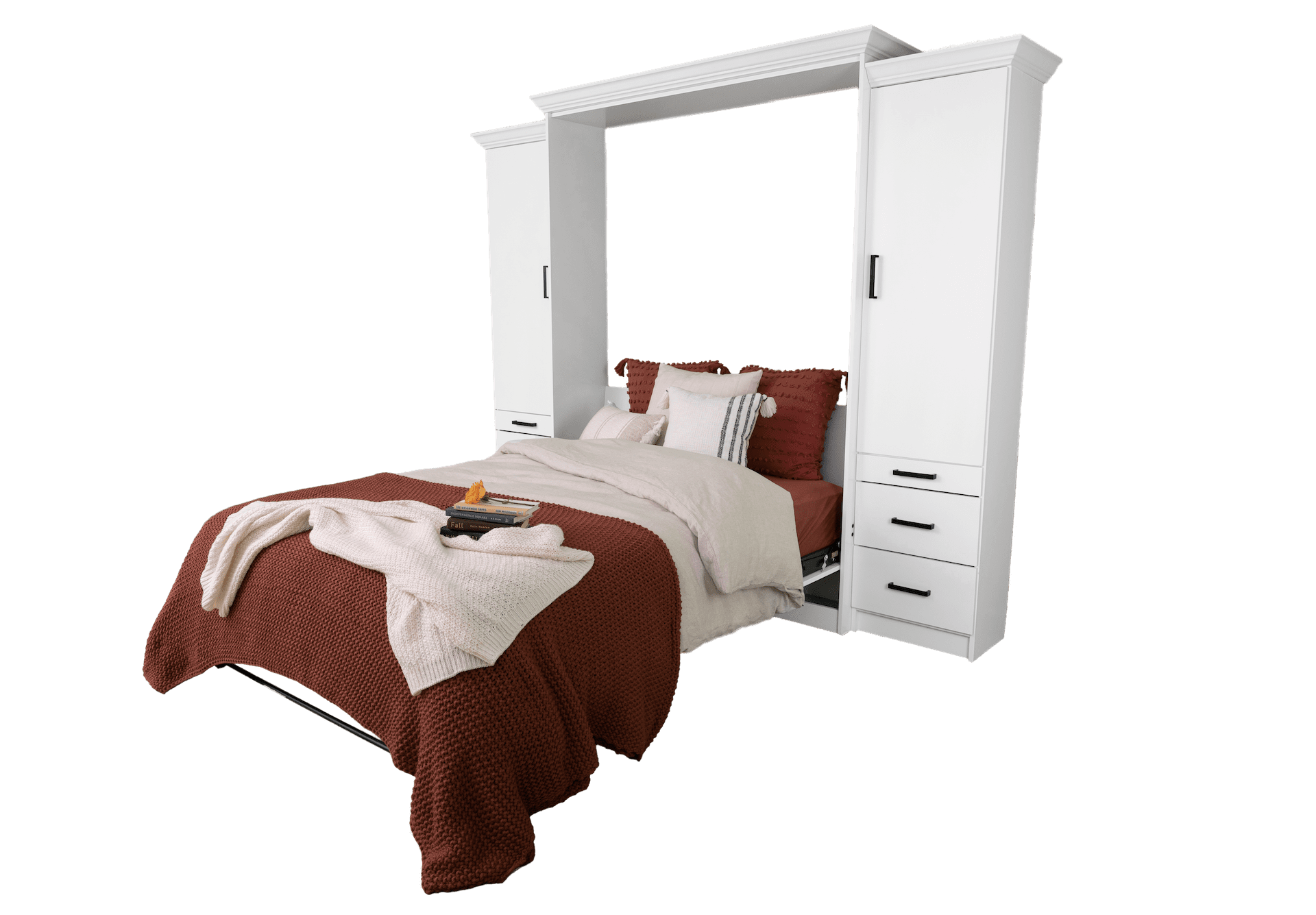 Utica Collection with additional side cabinets on both sides.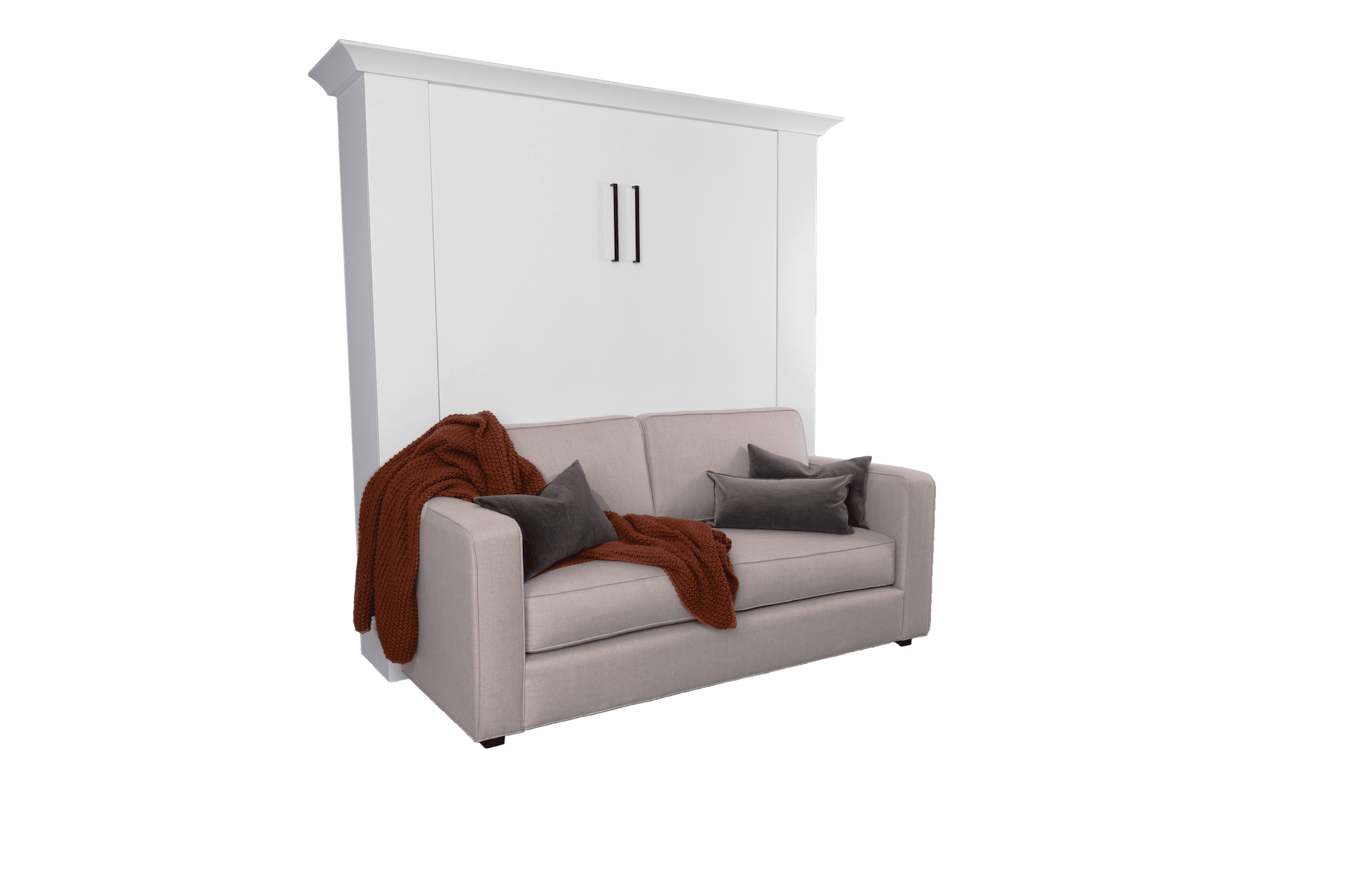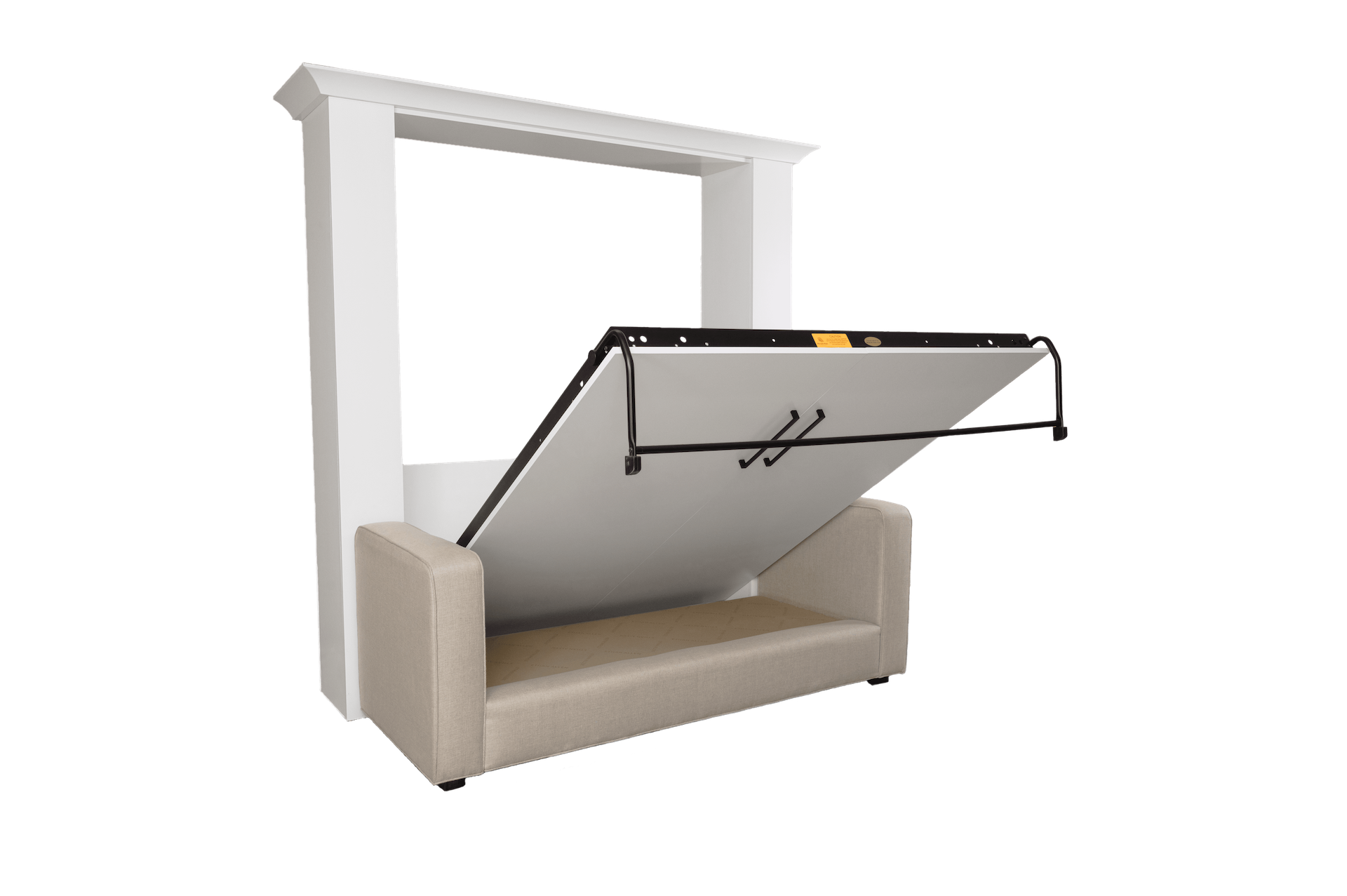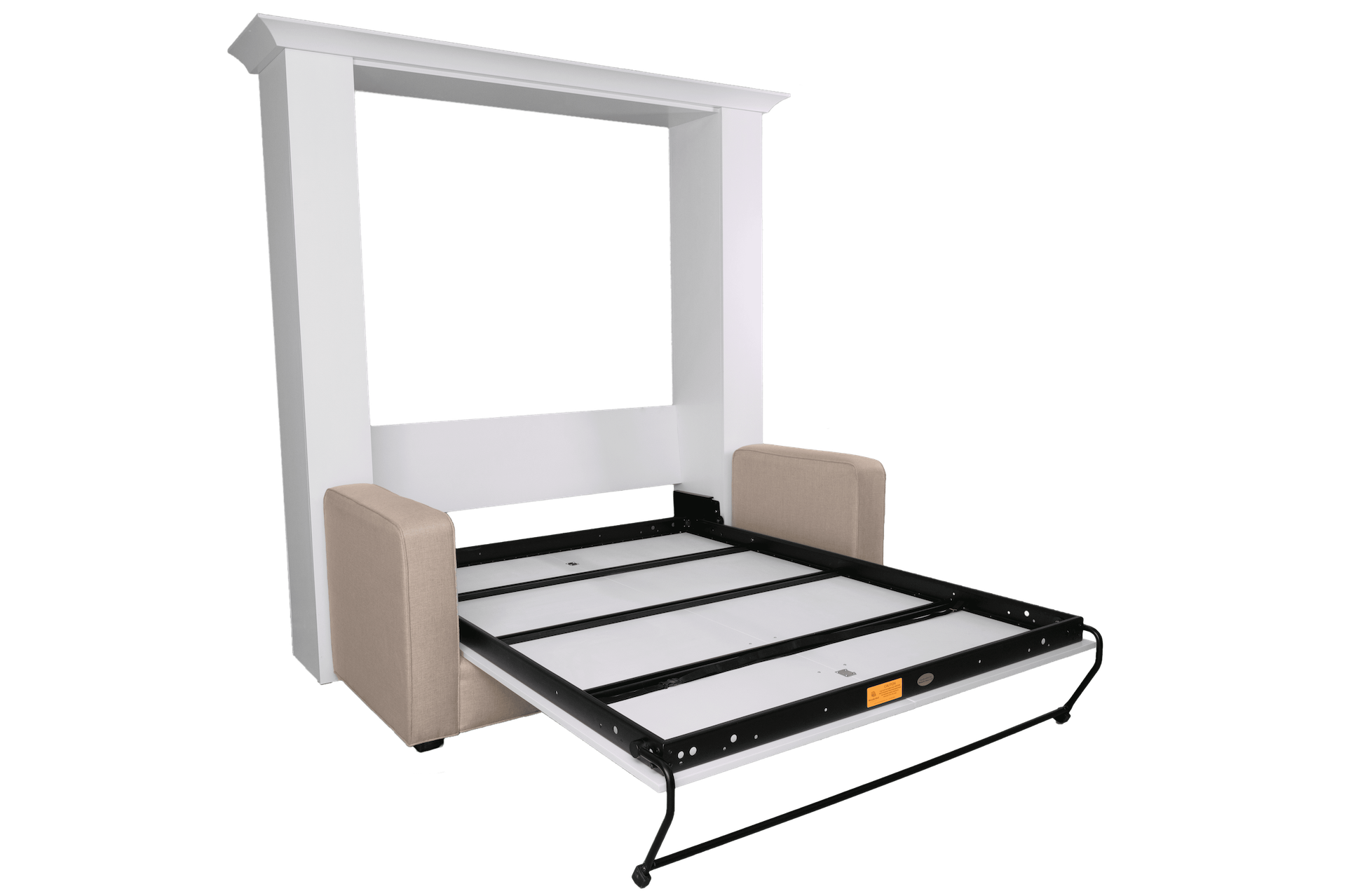 The London Collection
You will soon be able to buy your Murphy Bed online
Having faithfully served our local community for many years, we are expanding and currently building out the best Murphy Bed online store in the world. Not only will you get to buy great quality Murphy beds, but you will also have an incredible experience doing so.
Get notified when our new site launches
Side-cabinet additions
A – Adjustable shelves
B – Three adjustable shelves and a door on bottom
C – Three adjustable shelves, door on bottom and a pullout nightstand
D – Three adjustable shelves, two drawers on bottom, and a pullout nightstand
E – Door on top, pull-out nightstand, and a door on bottom
F – Door on top, pull-out nightstand, and two drawers on bottom
Materials – All collections aside from the Manhattan, are done in either Maple, Oak, or Knotty Alder veneer plywood. The Manhattan collection is made from prefinished plywood.
Paint finish – When selecting a paint finish, your order will be made of Maple or Birch plywood. You have four standard paint colors to choose: Bright White, Mindful Grey, Bungalow Beige, or Stillwater.
Stain finish – When selecting a stain finish, you will need to make a selection of Maple, Oak, or Knotty Alder materials. You have a choice of four different stains: Natural Light, Mission Oak, Special Walnut, or Black Walnut.
Custom colors – We accept custom colors (we accept Sherwin Williams color codes)
Delivery, Installation and Payments
Delivery and Installation – For clients within Tulsa limits, $300 for first floor and $350 for second floor. Oklahoma City area: $475 for first floor and $525 for second floor. Not in any of these areas? Call us and find out…
Payments – We accept all forms of payment. The first half of payment is required in order for the project to get started; the second half is due upon installation.
Come visit our showroom in Tulsa
Showroom Hours
Monday – Friday: 9am-4:00pm
Saturday by appointment only
Contact Info
15110 E Pine St
Tulsa, OK 74116
Office: (918) 836-5833
Office/Sales: murphybedstudios@gmail.com
What do our customers say?
"They were very professional and efficient, I would highly recommend them."

Jacob Tarabolous

Jacob! Thank you so much for your feedback. It was a pleasure doing business with you!
"Very excited about our new Murphy bed. It is exactly what we were looking for. The service is amazing. They delivered the bed a week earlier than they originally stated."

Chuck Pearce

It is wonderful to hear that you found the perfect bed for you. Thank you for making us a part of your journey.
"I can't say enough about Alex, Julie, and the entire Murphy Bed Studios Team!"

Christopher Campbell

Chris! Thank you for your kind words. We are glad we were able to meet your needs!
"Great showroom! Very well lit and the options are nicely displayed. They are also very knowledgeable and can answer any question you throw at them!"

Jamie Glisson

Jamie, thank you for the wonderful review.
"Alex and the team at Murphy Bed Studios were beyond amazing!"

Cynthia Whited

Cynthia thank you so much for your review! So glad everything worked out!
"We had a wonderful experience ordering and getting our Murphy Bed!"

Elaina Oberzan

Elaina thank you so much for the kind words! We love that our beds can be customized to each individual client. Thank you for such a wonderful review!!
Don't wait any longer, let us get in touch today
Bear with us as we get our new online store up and running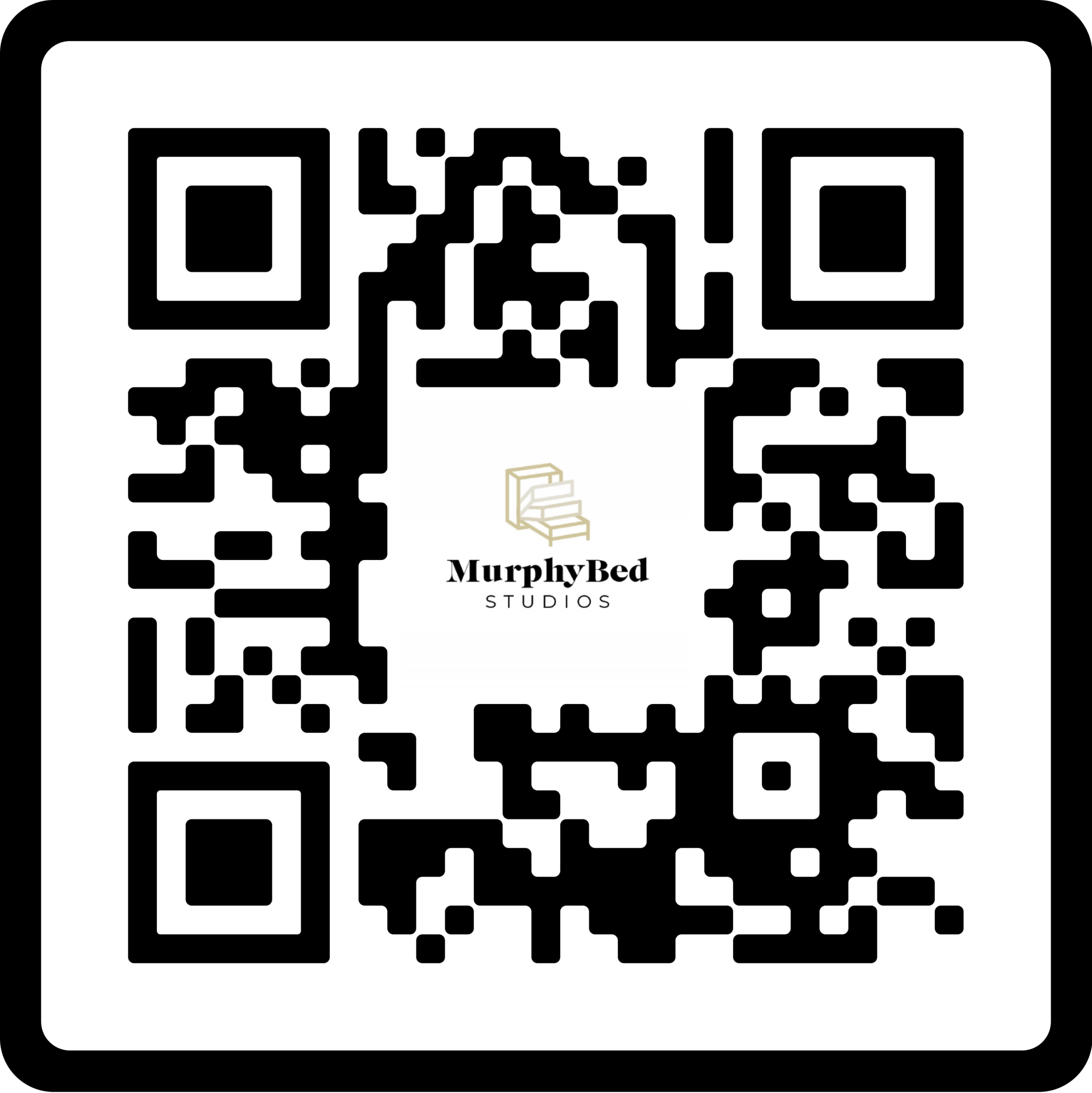 © 2012-2023 Murphy Bed Studios. All Rights Reserved